FOREXDIAMOND | PERFORMANCE REVIEW

Official Author Web Site: [Here]
---
Performance Review Mission: Educate the traders about the EA's actual performance in the live market running by our own terminal without any access from the author of that EA.
---
Editorial Introduction:
We've been participating in a local Trading Conference where leading trader been discussing different modern trading technologies. Eventually he has discussed about the "Forex Diamond" EA and educated us about it's key benefits. That's the point where we've said "We gonna get it and review it's performance for our community members".   Some of the exciting and innovative features that this EA offers are real-time three different signal algorithm to approach the market under different type of conditions and self logic updating system by connecting to the logic server and update it's trading logic by it self.
Another great function that many new (EA) traders may like to know is that it has fully self adaptive/automated mode, you don't need to mess around with the settings, simply select the "Simple" mode of the EA, apply on the trading charts and it will use its pre-optimized values accordingly to the pair you've set it up on, unlike many other EAs where you've to change dozens of settings before kick it on, Forex Diamond is basically pre-configured for you to be "plug & play" on it's officially supported pairs.
The EA been tested for a period of 14 years and it's developers offering ALPARI based myfxbook verified live performance data for everyone to review its day to day performance in real-time. We especially liked the fact it's live performance are from ALPARI broker since this is one of the more reliable and trusted brokers out there, so the feed must be reliable as well.
Forex Diamond EA is designed to work on 4 Currency Pairs
---
Let's observe the key features of this EA as listed by it's authors: 
3 (Three) Completely Independent Trading Systems In One EA

Dynamic Trading Logic

Self-Updating Algorithm

High Trading Frequency

Amazing

40+

Recovery Factor

Reasonable Dynamically Calculated Stop Loss and Take Profit Levels

Less Need To Be Optimized Then Other Robots

High Slippage Protection

High Spread Protection

Profit Protection System
---
Some past results from the EA Developers: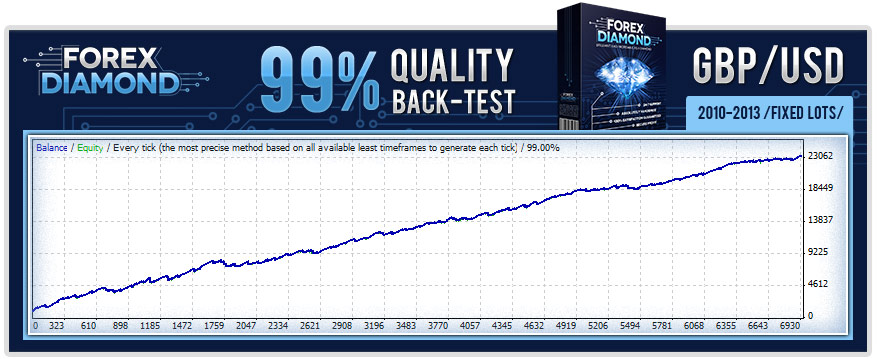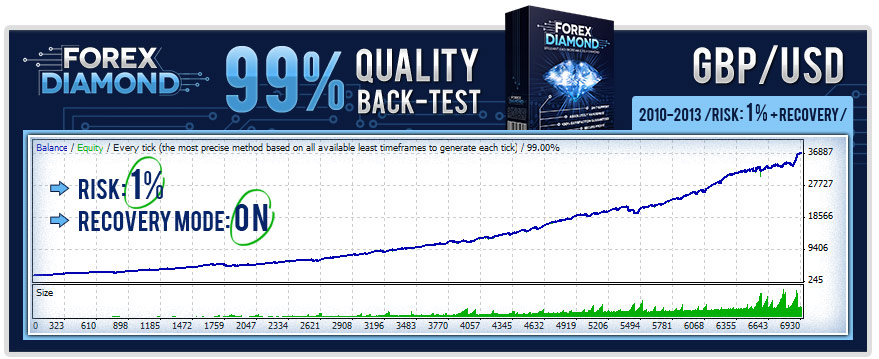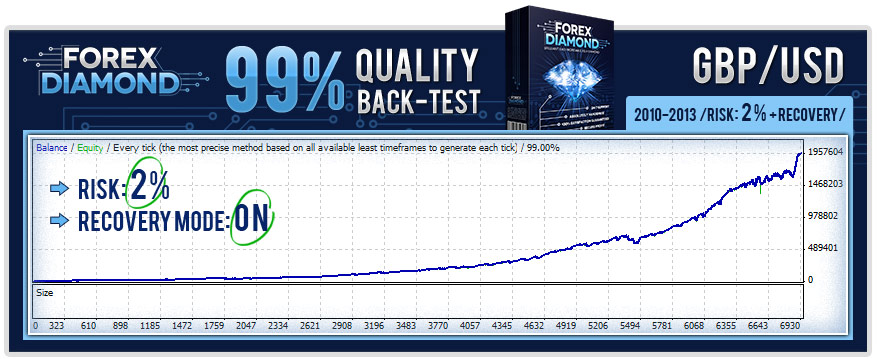 14-Year Backtest Results: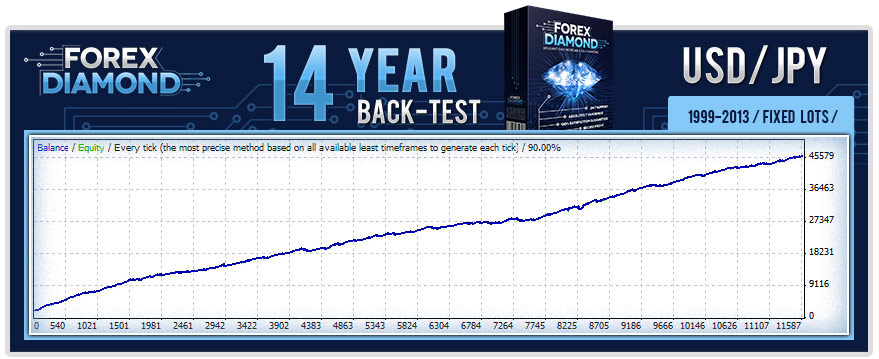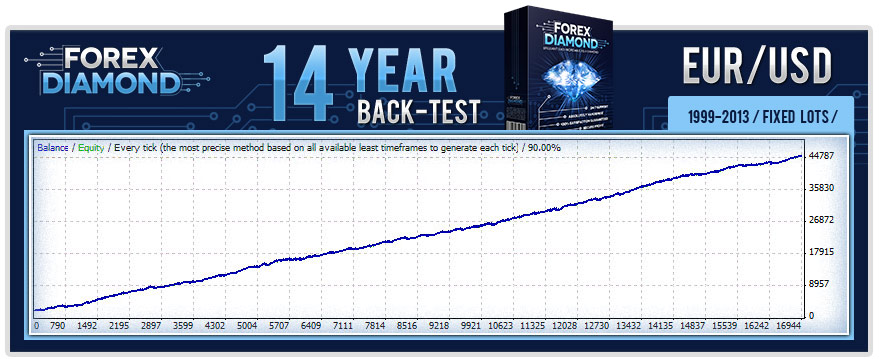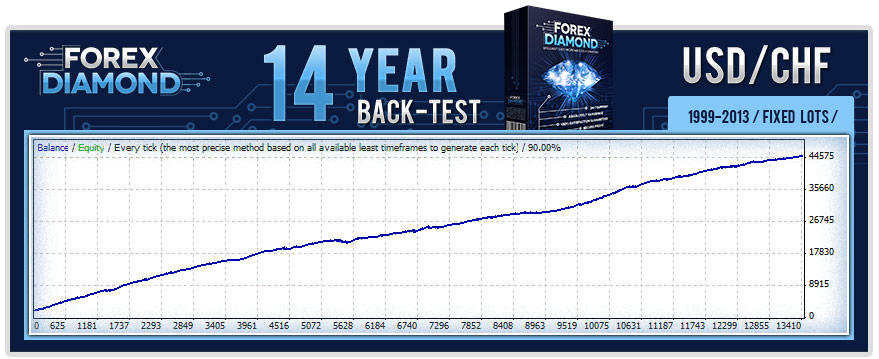 ---
+40 Recovery Factor as been tested by the developers: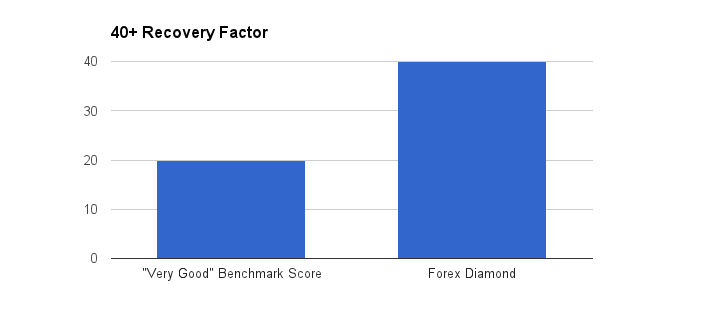 Recovery Factor measures an EA's ability to earn more money than it loses.
It's calculated by taking your pip net profit and dividing it by your pip drawdown. For example: If your EA earns 10,000 pips and has a 500 pips drawdown, then your EA's Recovery Factor would be 20. [10,000/500]
Forex trading experts consider an EA with a 20+ Recovery Factor to be very profitable. In fact, a 20+ Recovery Factor means that the EA is using a very good trading strategy.
So, now you understand why Forex Diamond's 40+ Recovery Factor is exceptional.
---
Personal EA introduction by the authors:
Forex Diamond works for you every second of every trading day – hunting down profitable opportunities and cashing in on them for you automatically.
It's constantly analyzing hundreds of market factors, making dozens of calculations every minute – positioning profitable trades multiple times per day…
This is NOT a "mass market" expert advisor – this is professional trading intelligence software, based on years of research – 24/5 real-world testing and over 40 years of combined, professional trading experience that's backed by proven results.
This is a real strategy with advanced programming, money management, risk-aversion, and analytical technology.
It costs more than other systems and software because it does what none of them can – consistently produce proven, real-world results based on advanced trading strategies…
And if you're already an active trader, it will pay for itself in no time – if it's not worth MUCH more than the price you paid, let us know within 60 days for a full refund, no questions asked.
---
Product Official Description (as per the author):
Forex Diamond EA is a rare combination of trend and counter trend strategies, smart money-management, dynamic trading parameter configurations and rapid trade execution. Forex Diamond EA is a complete trading system for currency traders who want speed, precision and reliable performance.
Market Domination Algorithm #1

Forex Diamond ЕА utilizes its Trend-Retrace Signal Strategy to systematically execute profitable trades. The algorithm patiently applies well-vetted trading parameters to profit from the market trend while safeguarding your Gains.

Market Domination Algorithm #2

Forex Diamond implements its Counter trend Strategy to watch the market for potential trend reversals. Once an opportunity is detected, Forex Diamond EA dynamically adjusts its trading parameters to maximize the profit potential of each trade.

Market Domination Algorithm #3

Forex Diamond's Counter trend Scalping Strategy leverages small spread trades executed with precision and speed. Forex Diamond's dynamic trading system quickly adjusts your trading parameters to suit even the most volatile markets.
Forex Diamond can be set to use all three or just one of it's trading strategies, you can rely on its ability to rapidly adapt to any market conditions without requiring constant tweaking and optimization.
In today's increasingly fast-paced currency market, you need a comprehensive Forex trading system that can reliably track market movements, utilize the best strategy, and precisely set the correct trading parameters with minimal intervention.
Our team knew that we had superior strategies for dominant market trend trading, highly volatile small spread trading, and counter trend trading. We had already built each of these three strategies into other popular EAs.
But this time we wanted to combine these strategies into one superior, high-performance Automatic Trading System.
Forex Diamond EA is the result of THOUSANDS of hours of design, testing, and refinement.
---
Author's Account Live Performance:
Find More About Forex Diamond EA at the author's official web site: